Original CM4 Raspberry Pi 4 Model B Board
Regular price
$189.99 USD
Regular price
Sale price
$189.99 USD
Unit price
per
Sale
Sold out
Why Raspberry Pi ?
Robust and affordable, Raspberry Pi technology has been deployed in tens of thousands of applications in a variety of industries across the world.
With a wide range of computing products and a network of trusted design partners, Raspberry Pi not only has the technology to help your business, but can also provide the vital help you need to find your perfect setup.
Respberry Pi 4B Applications
Your tiny dual monitors, desktop PCs... and robotic brains, smart home hubs, media hubs, game consoles
1:Tiny dual-display deaktop(balance work and life)
2:Raspberry Pi smart robot(try the AI magic)
3:Raspberry Pi game console(relieve retro games)
4:Study and development(DIY endless possibilities)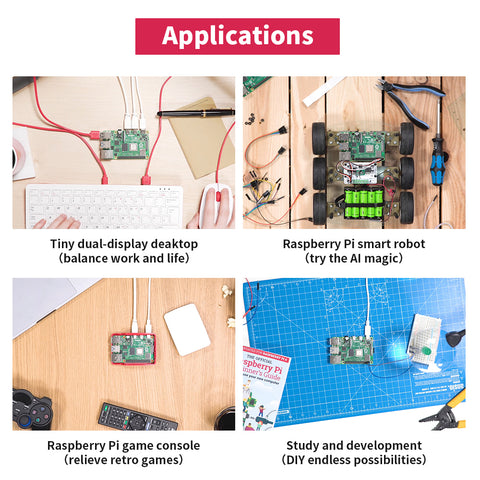 Raspberry Pi 4 Computer
Completely upgrade, Re-engineered faster,More Powerful
The power of Raspberry Pi 4 in a compact form factor for deeply embedded applications. Raspberry Pi Compute Module 4 incorporates a quad-core ARM Cortex-A72 processor, dual video output, and a wide selection of other interfaces. Available in 32 variants, with a range of RAM and eMMC Flash options, and with or without wireless connectivity.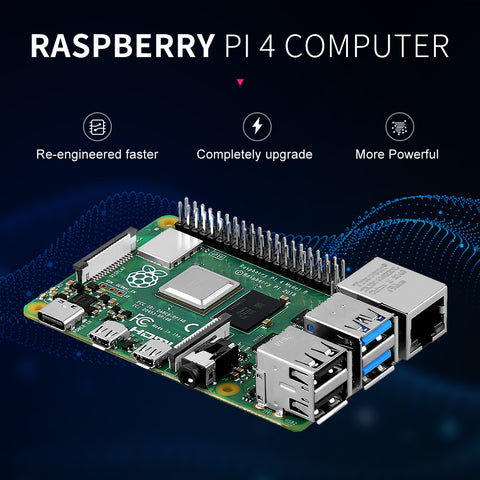 Raspberry Pi 4B(4GB RAM)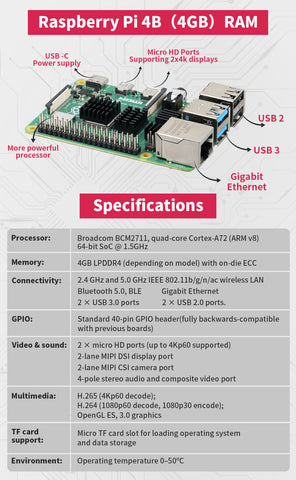 The Main Performance
Faster Performance(64-bit 1.5GHz Quad-core Processor)
4G RAM
Faster Networking(Gigabit Ethernet + BT 5.0 + Dual WIFI)
Upgrade USB 3.0(2xUSB3.0 + 2x USB2.0)
4K Dual Display(4K High Resolution Dual Dispaly)
USN-C Power(Upgrade power supply, more powerful)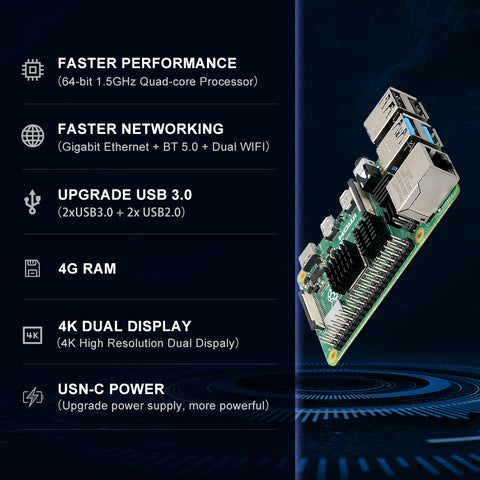 Raspberry Pi Versions Comparing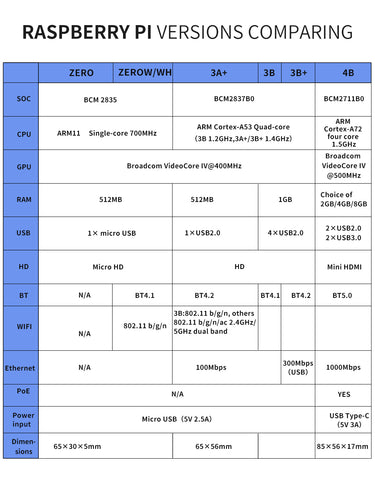 Faster Processor
The speed and performance of the new respberry pi 4 is a step up form earlier models
BT 5.0
BT Upgrade to 5.0 bie, low power consumption, no delay, more stable and faster transmission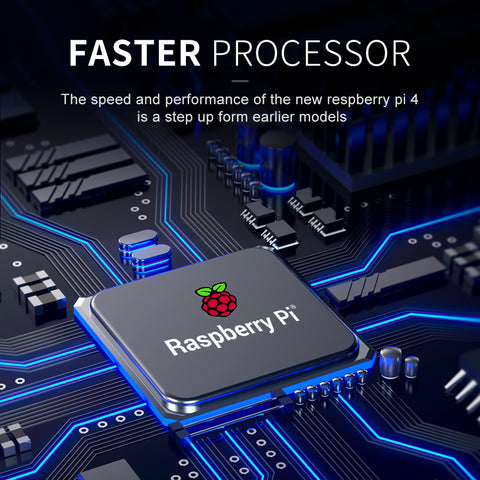 BT 5.0
BT Upgrade to 5.0 bie, low power consumption, no delay, more stable and faster transmission
Dual Displays 4K Output
Your tiny, Dual-display, Desktop Computer, with respberry pi 4, you can run two monitors at once-and in 4K, Too!
Gigabit Ethernet / USB 3.0
Paspberry Pi 4 comes with gigabit ethernet, along with onboard wireless networking and BT
Your new Raspberry Pi 4 has upgraded USB capacity: along with two USB 2 ports you'll find two USB 3 ports, which can transfer data up to ten times faster.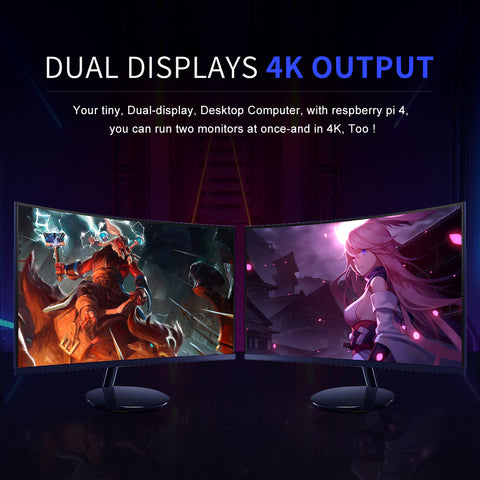 Share