JMachen Video Game Console Hyper Base King
Regular price
$179.99 USD
Regular price
Sale price
$179.99 USD
Unit price
per
Sale
Sold out
Main Highlight of Beelink GT-King/Hyper Base KING
◆ The Most Powerful Amlogic CPU, Amlogic S922X six-core
◆ Three systems in one, original ATV 9.0+EmuELEC 4.6+CoreELEC
◆ Pre-installed 70+Emulators with 110000+games, plug&play
◆ 4GB LPDDR4 RAM+64GB EMMC ROM, running more smoothly
◆ 2.4G+5G WIFI 6, Gigabit Ethernet, can download and add games through WIFI
◆ Support BT 4.1, can connect with BT controller or BT headset
◆ Support UHD Output up to 4K@60Hz
◆ Support multiplayer game, up to 5 people
◆ Multilingual System
◆ Support Voice Remote Control (BT/IR)
✔ No matter what model of game console you buy, we will provide you with 110,000+ versions of game download resources, if you need, you can contact our friendly online sales representative to get it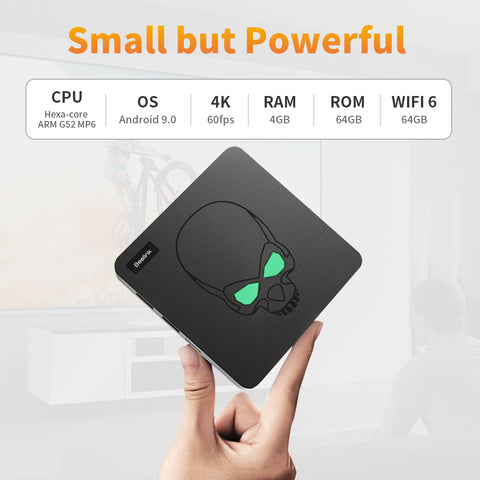 Three Systems All in One
Ultimate Game Console-JMachen newest retro game console - Hyper Base KING, Original ATV 9.0 + Latest EmuELEC 4.6 + CoreELEC,Three Systems All in One.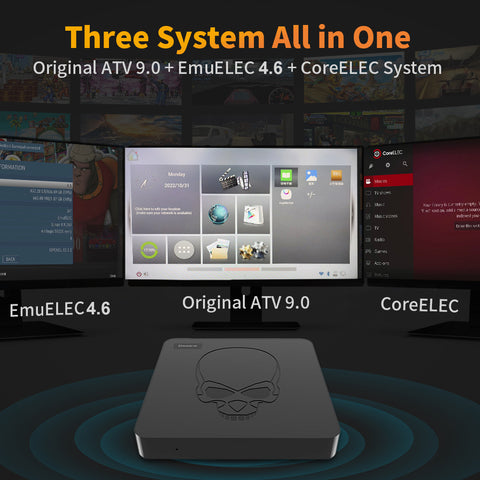 Amlogic S922X Six-core, the Most Powerful Amlogic CPU
Beelink GT KING-Hyper Base KING The most powerful Amlogic S922X hexa-core SoC, including quad-core ARM Cortex-A73 and dual-core ARM Cortex-A53 processors, provides you with super fast running speed and smooth image processing performance, supports Gigabit Network port, GPU adopts ARM Mali-G52 MP6, which has super computing power in pixel fill rate performance and FP32 performance.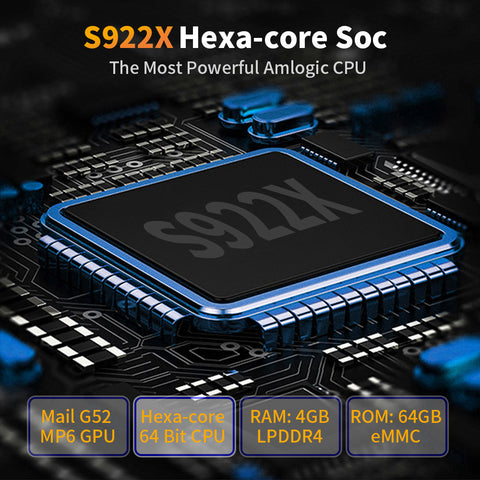 Pre-installed 80+Emulators!Perfectly Running for PS1 / PSP / N64 / DC/ Sega Saturn etc
GT KING pre-installed the latest EmuELEC 4.6 system, pre-installed 80+ emulators, 512gb built-in 50,000 games (no repetition),perfect support for PS1/PSP/N64/NDS/DC/MAME/Naomi/Sega Saturn, etc., classic games for you Play, arcade games, sports, fighting, racing and more.etc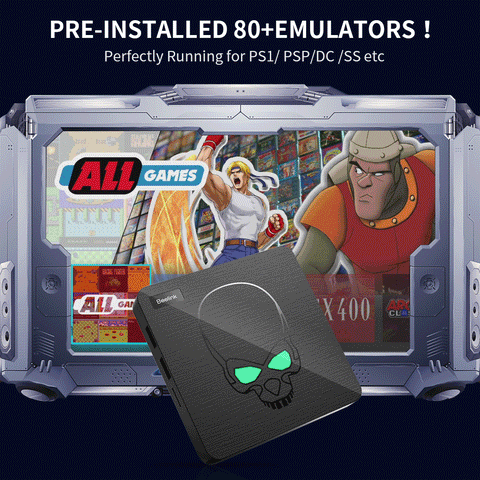 ★ The Difference Between the Normal Version and the No-duplicate Version
Dear friends, I need to remind you that there is essentially no difference between the two.
In order to meet the needs of different customers, some games in the regular edition will contain different release regions and language versions of different games. If you mind this, you can buy our non-duplicate version.
Pre-loaded 110000+Classic Games, Plug and Play
Beelink gt king hyper base king has more than 110000 retro games installed, just connect one HD cable to your device to play. Various action games, adventure games, role-playing games, classic retro games, and puzzle games are waiting for you to challenge and relive the childhood game time.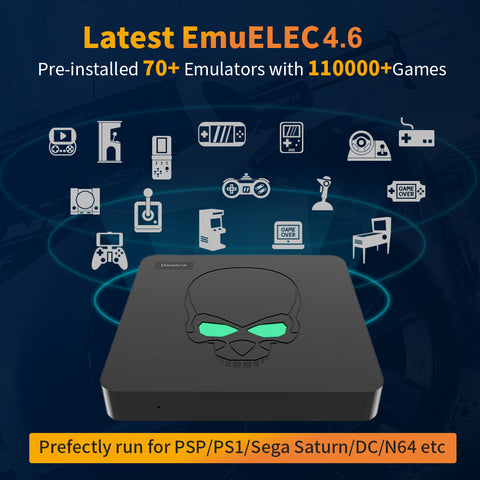 WIFI 6+LAN 1000Mbps+BT4.1
The Retro Video Game Console Hyper Base King adopts 2.4GHz+5.8G dual-band WiFi 6 design, Gigabit Ethernet, BT4.1. Higher speed, lower latency, better performance
Your console comes with a Gigabit Ethernet port and Wi-Fi 6, but we recommend using a wired cable, if you prefer Wi-Fi, you can enable it and connect the console to your home network.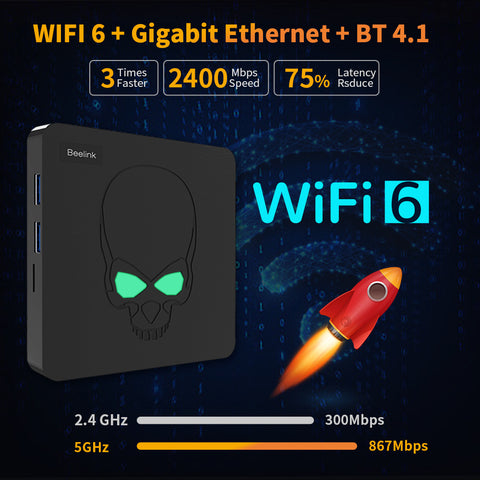 Original ATV 9.0 Operation System
The ATV 9.0 system is compatible with Google Play, Netflix, HBO, Plex, Emby, KODI, Aptoide TV, Infuse, Twitch, Redbull TV, VLC, Hulu etc.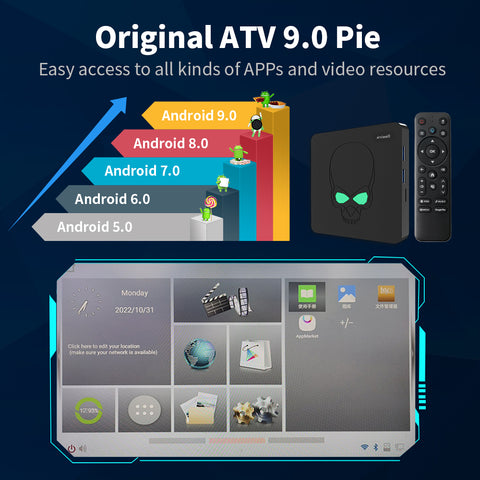 CoreELEC Audio-visual System
The packsge comes with an 8G card with a built-in CoreELEC audio-visual system.
The entire operating system of CoreELEC has been deeply optimized for KODI. Mainstream encoded video can be played through NAS, and 100G 4K UHD decoding is also smooth as silk. All kinds of audio are perfectly straight-through, blooming with good sound, and supporting a variety of plug-ins, creating a variety of possibilities. You can watch TV, movie programs for free.
UHD Output up to 4K@60Hz
This console support 4K Ultra HD video, Stream and enjoy premium HD content on compatible TVs.
The 4K ultra-high-definition display makes the game screen display more perfect, and the video viewing effect and game effect are perfect.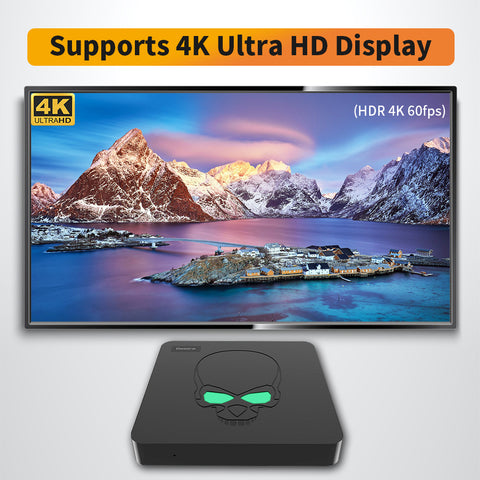 Multilingual System
The new generation of console gt king system supports English, French, Portuguese, Korean, German, Spanish, Polish, Russian, Japanese and other more than 20 languages. You can adjust the language according to your country to bring you a better gaming experience.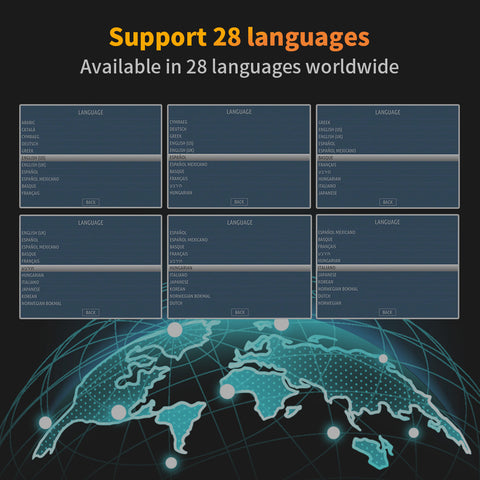 4G RAM+64G ROM
4G RAM+64G ROM, mass storage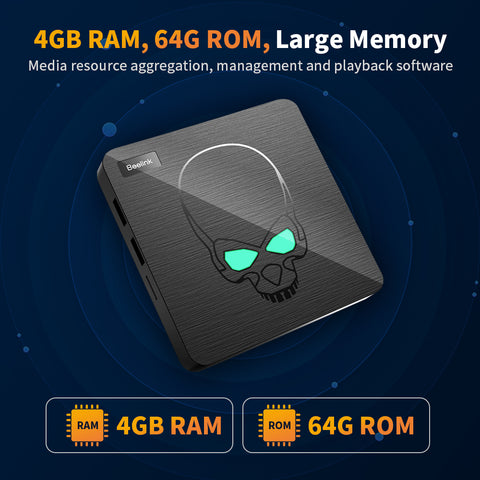 Support Multiplayer Games
Hyper Base KING game console quipped with two wireless controllers, you can enjoy the game with friends and family at any time.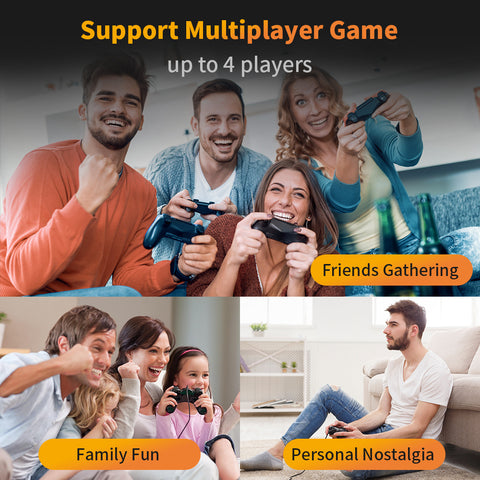 Many Ports, Major Possibilities
Packs a lot of connectivity into a small space, Easily connect to your HDTV

More Thinner&Compat
15.3 mm thickness
155.4g weight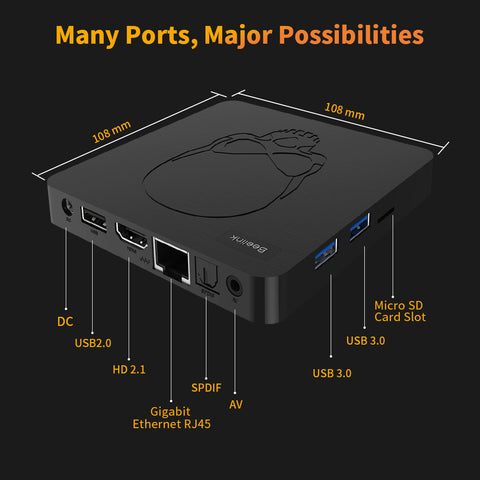 Share