JMachen External Game HDD Hyper Base RB500G
Regular price
Sale price
$39.99 USD
Unit price
per
Sale
Sold out
100% Plug&Play
Truly plug and play!
Hyper Base RB500G HDD can run directly in the Windows system without switching systems and does not affect the use of Windows. You can directly access the game directory in the system to add games.
There are many types of hard drives in your store, how should I choose? What's the difference between them?
In terms of hard disk models, we mainly developed Hyper Base RB/BC/PN HDD, which were developed based on Reteobat, Batocera, and Playnite respectively. We pre-install the system and games for you, no need to download and install, plug and play, you can choose according to your needs.
1: The Hyper Base RB series is based on the Retrobat system, with 105+ emulators and game collections pre-installed, and 110,000+ games pre-installed.
2: The Hyper Base BC series is based on the latest Batocera system, with 105+ emulators and game collections pre-installed, and 52,000+ games pre-installed.
3: The Hyper Base PN series is based on the latest Playnite system, pre-installed with 77+ AAA games, the database is updated in real time, and currently contains 380+ AAA games.
For more questions, you can communicate with our online sales representatives, they are very happy to chat with you
Retrobat OS
We pre-installed the Retrobat frontend for you on your hard drive.
RetroBat is a software distribution designed for emulation and to be the easiest way to enjoy your game collection on your Windows computer. The supplied EmulationStation interface is fully functional and highly customizable. You can run all your games from it and search online for visuals to enhance the presentation of your collection.
With it you will be quickly able to run games from a ROMs collection. You can save a lot of time you can keep to play !
RetroBat can download and install all software you need to have a good retro gaming experience on your Windows PC.
RetroBat can run in Portable Mode. That means you can start it from HDD or from any removable storage device, as long as you do it on a computer that meets the requirements.
No need to get lost in the options of a multitude of software, all the important options are integrated in the same unified interface.
With RetroBat, you save time that you can use to play!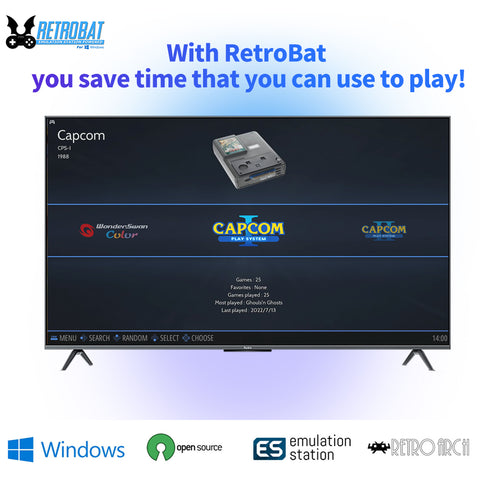 Pre-installed 70+Emulators
70+ game emulators are pre-installed on the hyper base 500G hard drive, and 64000+ games are built in, including 10000+ 3D games, which can perfectly run PS3/PS2/PSP/MAME/Sega Saturn/PS1/N64/DC/3DS/Game Cube, etc.
If you want more games, you can add your own games, and we can also provide you with free game download resources.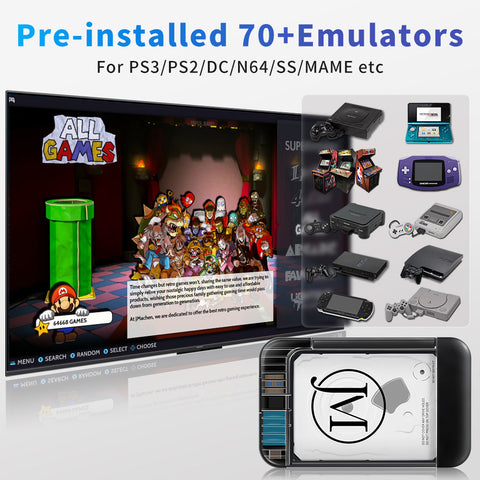 Pre-installed 64000+Games(10000+3D)
We have collected all the games that may appear on the market for you, no need to download and install, just open and play!
Find classic memories of childhood with family and friends!
Let's go on an adventure together!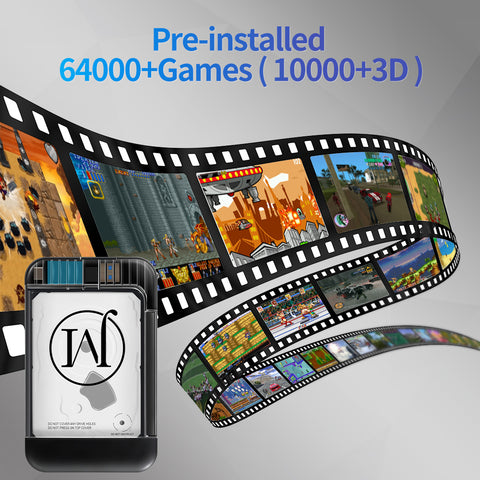 ☎ Surprise! 110000+Games Download Resources!
In order to meet the needs of different customers, we have established our own game database. There are currently 110,000+ games, which will be continuously updated in the future. These games include different release regions and different versions. No matter which model you buy, you can get these games for free resources, available for life.
Minimum Requirements Suggestions
Some minimum requirements suggestions about the system that you might want to know:
To work properly, the following requirements must be met.
1: OS
Windows 8.1 64 Bits, Windows 10 64 Bits, Windows 11 64 Bits
2: Processor
CPU with SSE2 support. 3 GHz and Dual Core, not older than 2008 is highly recommended.
3: Graphics
- If you want to use emulators such as Dolphin, PCSX2, RPCS3 etc.. you need modern graphics card that supports Direct3D 11.1 / OpenGL 4.4 / Vulkan
4: Software:
- VC++ Redistributables (both 32 & 64 bits)
-DirectX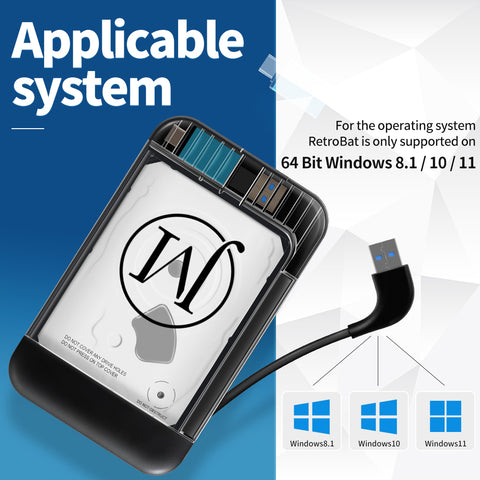 Retrobat System, Support 28+ languages
Retrobat system supports 28 game menu languages, including Chinese, English, Spanish, French, Russian, Portuguese, Japanese, Korean, Arabic, applicable to more countries and regions, applicable to players all over the world, no need to worry about operation .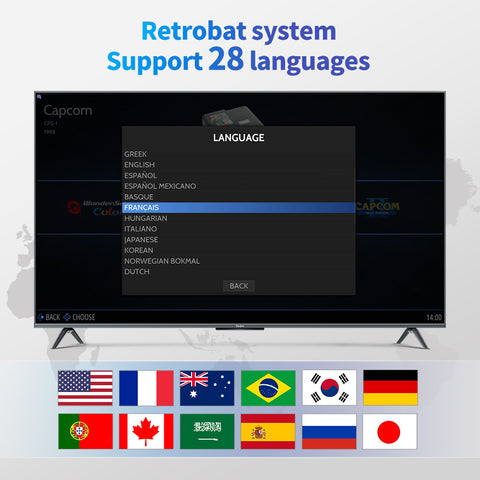 USB 3.0 Interface
USB 3.0 Interface, fast transmission speed, up to 6GB/s, bringing you a smoother gaming experience.
(PS: As used for storage capacity, one gigabyte (GB) = one billion bytes and one terabyte (TB) = one trillion bytes. Total accessible capacity varies depending on operating environment.)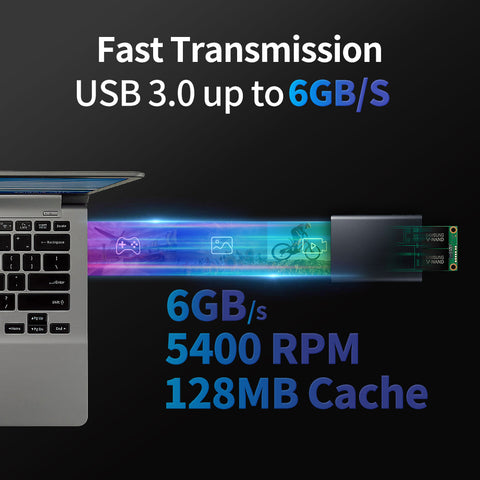 What's in the box?
Hyper base RB500G HDD*1
USB 3.0 cable*1
Type-C adapter*1
User manual *1
Controller*0/2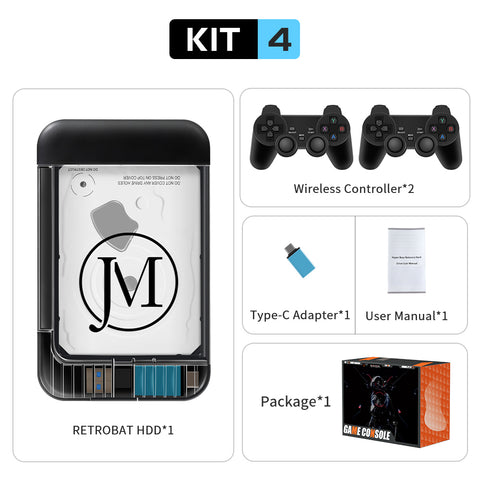 Share