JMachen External Game HDD Hyper Base LBOX 2TB
Regular price
$114.98 USD
Regular price
Sale price
$114.98 USD
Unit price
per
Sale
Sold out
✔This must be the product you can't miss in 2023!
About Hyper Base LaunchBox HDD
✔100% plug and play, No need to download and install, can run directly on windows system
✔LaunchBox 13.4 gaming frontend & Pre-installed 17 Emulators
✔Compatible with PS1,PS2,PS3,PS4,Switch,Game Cube,Wii,WiiU,N64 etc
✔Pre-loaded 4200+ Select Games, including multiple PC games and many games,Easy to add and delete games
✔11000+ free retro game download resources, 380+ free AAA game download resources
✔Simple and intuitive operation interface
✔Support win8.1 and above operating systems
✔Running smoothly, SATA 3.0 to USB 3.0, high-speed transmission: 6GB/S
✔Support 15 system languages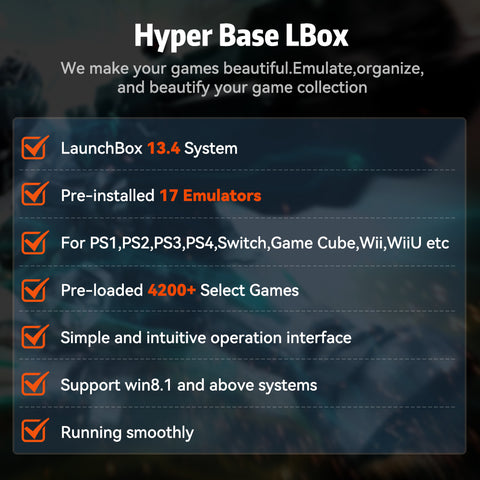 100% Plug & Play
launchbox2tb is a 100% plug and play device! No driver, no need to download and install, run the game and manage the game library directly on Windows, you can directly access the game directory in the system to add games, without switching systems.
Just need a USB3.0 data cable to connect it to your computer and play!
PS: We have already included a USB3.0 data cable for you, no additional purchase is required.
For 64-bit Windows 8.1/10/11
For the operating system, LaunchBox fully supports 64-bit Windows 8.1/10/11.
Hardwarerequirements:
After 2008, the production of dual-core 3.0GHz and above CPU with SSE2 instruction set
NOTE: The running speed of the game depends on your computer configuration. If you want to run PS3, WIIU and other 3D games smoothly, It is recommended to use a CPU above i5 and a discrete graphics card above GTX780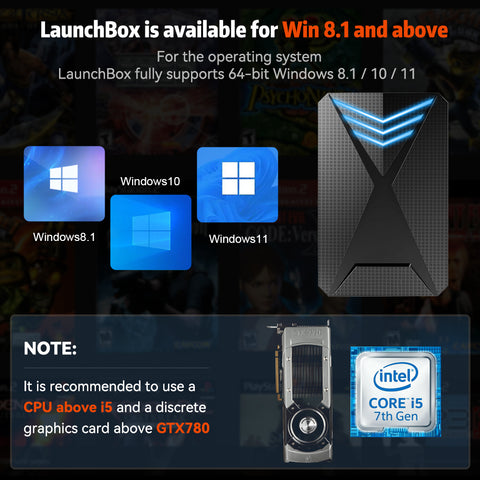 For PS4/PS3/WiiU/Wii/Game Cube/Sega Saturn etc
According to buyer feedback, we have pre-installed large popular emulators for you, compatible with 3do, N64, NDS, NES, GameCube, Switch, Wii, WiiU, Dreamcast, Saturn, PS1, PS2, PS3, PS4, PSP, SNES and other large The emulator game is the most fun hard drive at present.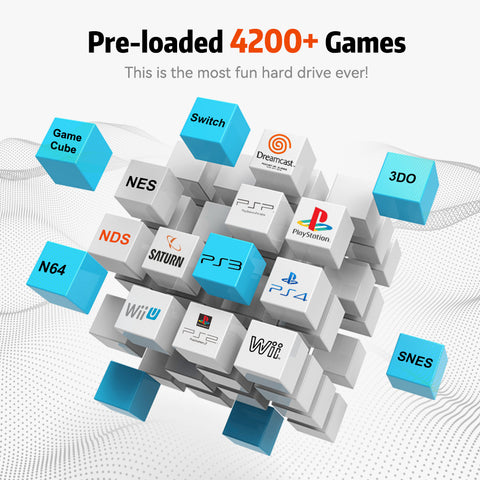 Select 4200+ Games
With over 4200+games preloaded, this has got to be the funniest hard drive ever!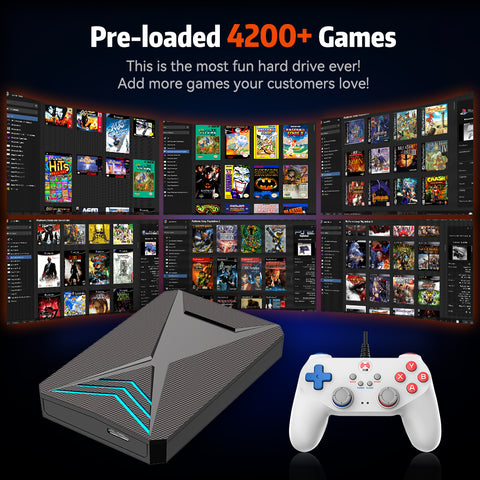 Surprise! Update the Game for Free
➤100000+ classic retro game download resources
➤ Massive 3D game download resources
➤ 400+ AAA game download resources
We provide you with a free game download resource account password, you can directly log in to our server to download and install!
Simple intuitive operation interface
Easy to customize、add and organize games
Support Game Full Screen Display!
Automatically adapts different aspect ratio of your TV or monitor.
Multilingual System
Support 15+language
Compatible with different types of Controllers
Choose Your Favorite Controller
The launchbox system supports xbox and PS2 model controllers, however, If you don't have your own gamepad, choose your favorite model from three controllers!
① 706W (wireless handle)
2.4G wireless game controller, no need to be bound by wires, no delay!
② 218 (wired controller)
Wired PC Game Controller, Supports Dual Vibration Motor Gamepads
③ We recommend buying ★★★★★-D2E (wired vibration controller)
BETOP D2E wired gamepad supports vibration motor function, giving you a better gaming experience! Due to game features, some games support real-time handle vibration (such as PS4, some Windows Wii, PS3)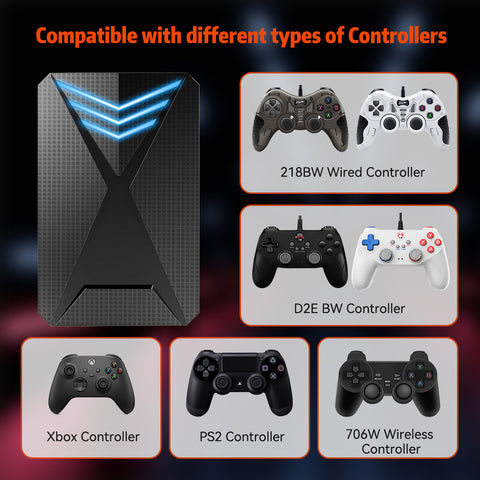 Share