JMachen Video Game Console Hyper Base FC
Regular price
Sale price
$49.99 USD
Unit price
per
Sale
Sold out
Hyper Base FC Game Console
This system has the most comprehensive collection of emulators and titles I have ever seen in any retro console to-date.
there are indeed over 53,000 games built in to the 500GB SATA hard drive which ships with the console. Games for other systems are preloaded on the microSD chip. This unit is rocking an actual hard drive! Not only does it have the usual systems, like NES, MAME, ARCADE, Sega, Sony PlayStation 1, and GameBoy...but it has more eclectic platforms from the 80s and 90s: Systems like ColecoVision, Intellivision, Atari 5200 and 7800, Sega 32X, Amiga, Amstrad, Vectrex, even 3DO...which is a rare find on any retro compilation. There are over 70 different systems emulated, including anything you can think of.
Overall, this is a really great system. I'm impressed with the number of titles and depth of gaming systems covered. The controllers handle very well, and the interface is quite intuitive. You can search the 53,000+ titles to find the exact one you are looking for. All titles are properly named and tabbed with some identifying cover art, which is a nice touch.
New Arrival!
【Ultimate Retro Gaming Console, Dual Boot All in One】ATV 7.1.2 + EmuELEC 4.3
【EmuELEC System, 53,000+ Classic Games】JMachen Retro Game Console Hyper Base FC Perfectly Run PS1, PSP, DC and etc, pre-installed with 53,000+ retro games without any duplicate versions.
【Plug & Play】HDMI-compatible, you just need to connect the retro game console Hyper Base FC to TV, projector or computer screen via HD cable to play games.
【Up to 5 Players】Hyper Base FC game console supports up to 5 players at the same time, comes with two2.4GHz wireless game controllers, Support 8-10 meters long-distance signal transmission.
【2.4G WIFI/ BT4.0/100M Ethernet】Higher speed, Lower Latency, Better performance
【Buy with Confidence! 】Every product is tested by professional technicians before shipping! We provide free no reason to return and exchange and lifetime warranty service!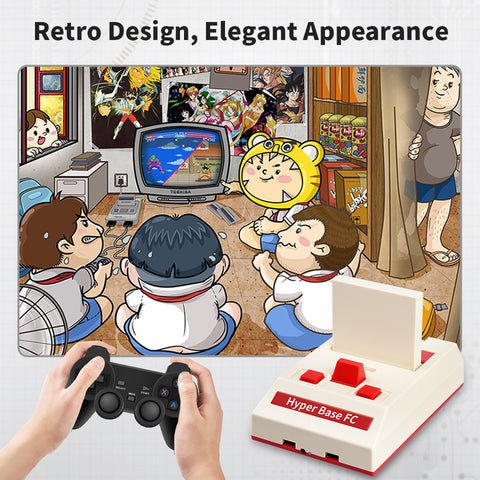 Ultimate Retro Gaming Console, Dual Boot All in One
EmuELEC 4.3 and Android 7.1.2 dual system in one
1:EmuELEC System
64 bit open source system
A ton of retro games in one, Plug&Play
Pre-loaded 70+emulators with 53000+games:
2:ATV System
Google play
You can download APP, Watch TV, Browse information
Pre-installed 80+Emulators for PSP/PS1/N64/DC/MAME etc
Hyper Base FC Pre-installed 80+emulators, perfectly for PS1/PSP/N64/DC/MAME/SENS/NES/3DO/NDS/NEOGEO/NAOMI/ATOMISWAVE etc.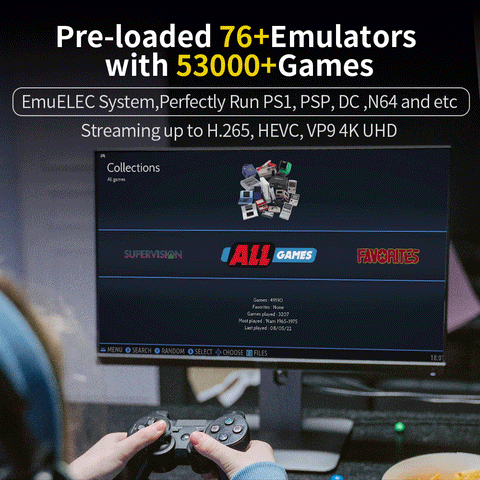 Pre-loaded 53000+Games,100% Playable
500G hard disk, pre-installed 53000+ games, 100% playable, no duplicate games! Simply connect the Hyper Base FC game console to your TV, projector or computer screen via an HD cable and enjoy! Plug and Play!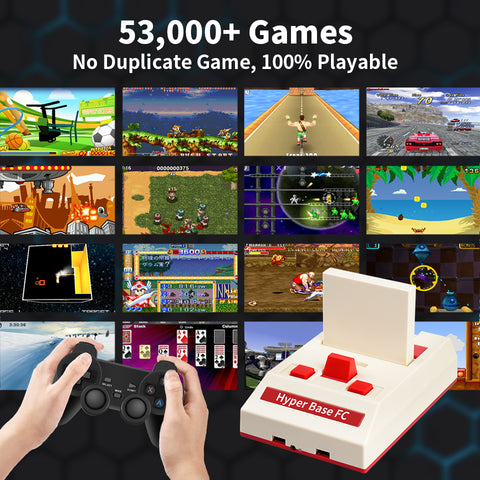 ☎ Surprise! 110000+Games Download Resources!
In order to meet the needs of different customers, we have established our own game database. There are currently 110,000+ games, which will be continuously updated in the future. These games include different release regions and different versions. No matter which model you buy, you can get these games for free resources, available for life.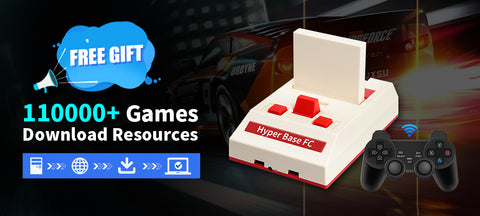 External 500G HDD
External portable 500G hard drive, no installation required, plug and play.
Pre-installed 70+ emulators with 53,000+games (without any duplicates), and 1500+3D games with support for saving game progress, casual games, competitive games, sports games, single player, multiplayer, you're covered Every retro game imaginable takes you back to happy childhood memories.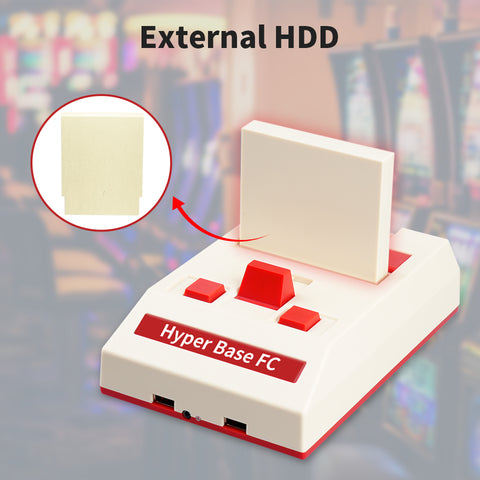 500G HDD, Support for Multi-device Applications
500G HDD, support multi-device connection, can connect to any game box pre-installed with EmuELEC system, such as Beelink gt king, JMachen Hyper Base R1/C1/W1, and DIY your box into a game console. If you are not sure if your box is compatible with it, you can ask our online customer service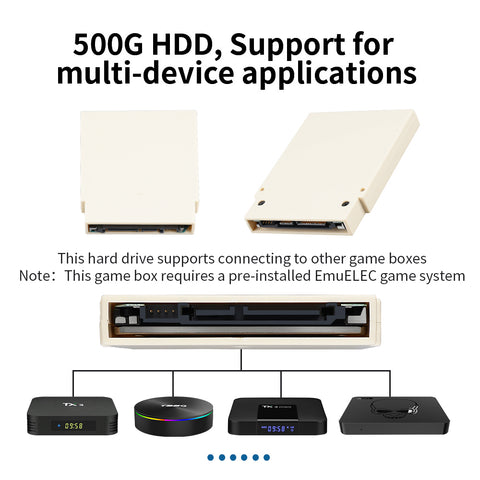 Quad-core S905X CPU, 2GB RAM+16GB ROM
Equipped with upgraded S905 chip, quad-core 64-bit ARM Cortex-A53, penta-core ARM Mali-450 GPU, UHD 4K 60fps hardware decoding, support H.265/VP9 10-bit, H.264 and AVS+ and many other formats HDR10 and HLG High dynamic range processing Full HD 1080p 60fps hardware encoding, supports H.264, excellent audio and video processing capabilities bring users an immersive cinema-level home entertainment experience, running smoothly without lag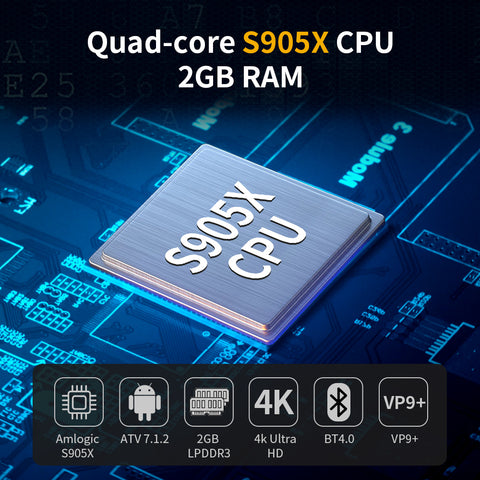 A Special Gift
Give it to children, family, friends, pay tribute to the classics and recall childhood.
ATV System/ Google play
ATV 7.1.2 is compatible with most software, games and applications. Google Play, Netflix, HBO, Plex, Emby, Aptoide TV, Plex, Emby, Infuse, KODI, Twitch, Redbull TV, VLC, Hulu and etc. You can use it to watch movies, google the web, play online games and more.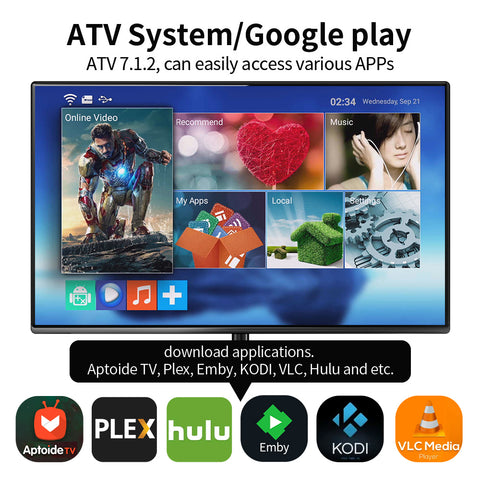 4K Ultra HD Output
Hyper Base FC game console support 4K 60fps UHD output, support 3D video output, stream to H.265, HEVC, VP9 4K UHD 10bit HDR w/DTS.
Large screen output, enjoy playing!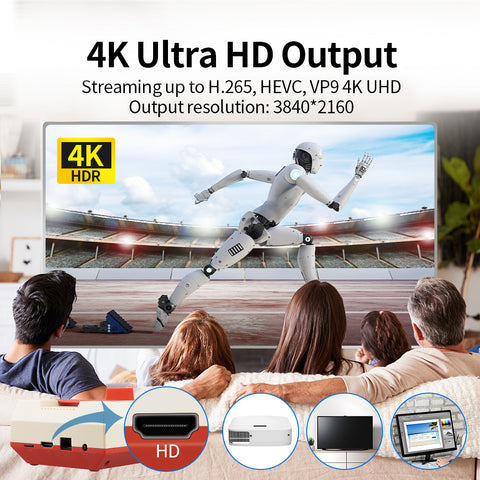 2.4G WIFI/ BT4.0/100M Ethernet
Higher speed, Lower Latency, Better performance
Using BT 4.2, low power consumption and fast transmission, can be connected to external BT audio equipment, BT headset, BT handle and other equipment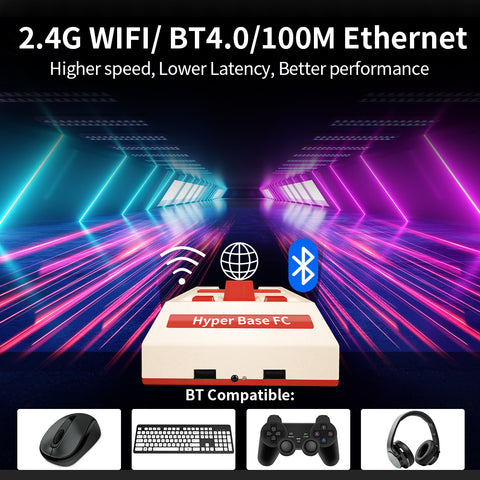 Kodi Embedded
KODI is the ultimate entertainment center, kodi brings your media to life with endless features, a beautiful interface, and ease of use. There is an Add-on for that, kodi has a giant catalog of community ass-ons available for you to customize and tweak your perfect entertainment setup. Here you can watch TV, movies, listen to music and enjoy your home theater for free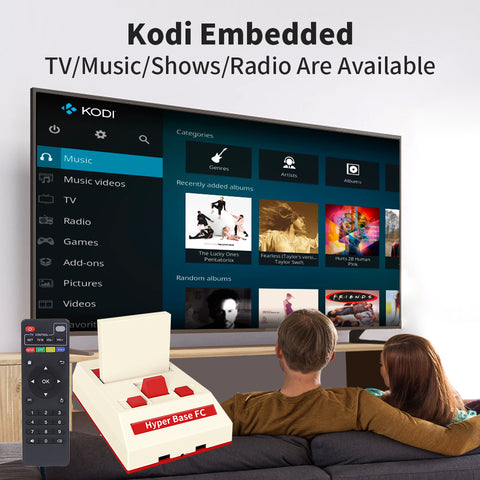 Support 28+System languages
The system supports English, Portuguese, Russian, French, German, Japanese, Spanish, Korean, Arabic, Italian, Hebrew and other 28 languages, which can be purchased and used by players around the world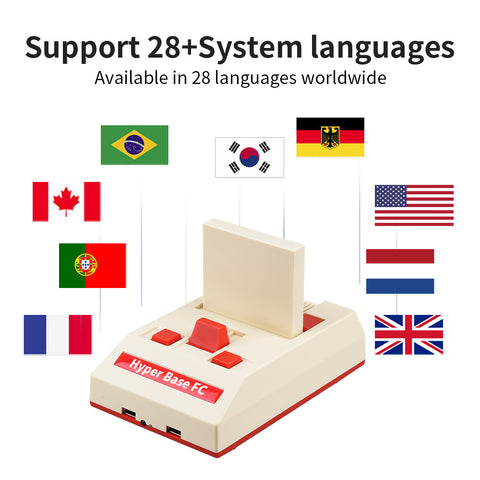 Support Multiplayer Game
The game console supports wired and wireless handle connections, and is an entertainment artifact for family entertainment, parent-child interaction, friends gathering, and brother battle! Up to five players can play the game online!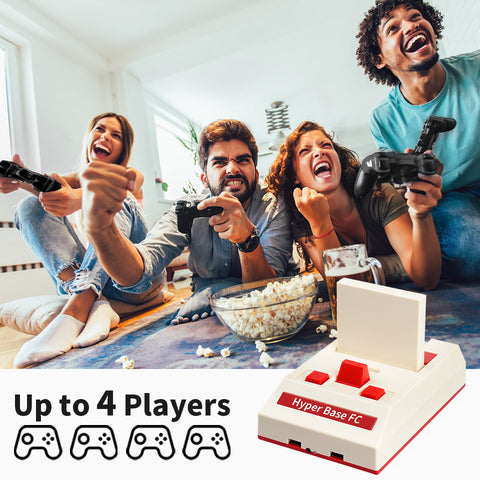 2.4G Wireless Controller
For your convenience, Hyper Base FC game console is equipped with 2.4GHz wireless transmission handle, classic appearance, humanized design, 8-10 meters long distance transmission without delay, suitable for tablet, ATV box, smart TV, set-top box and computer with win7 or above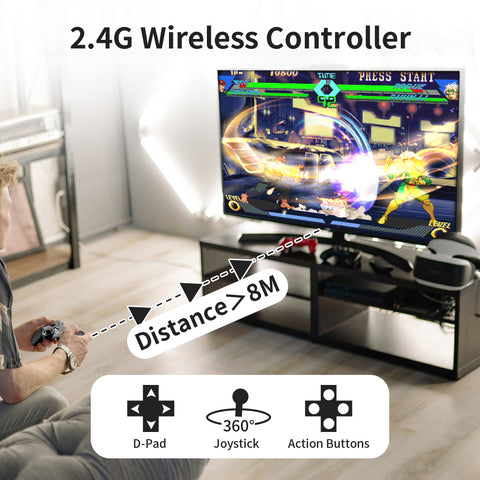 Super Heat Dissipation Function
The machine has a built-in large heat sink with unique design, which can keep the chip temperature at 50 degrees Celsius, ensuring fast operation without heating, and the game is fun to play!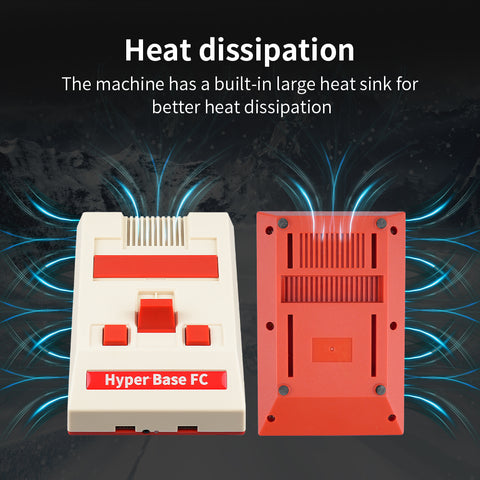 Interface Introduction
USB 2.0 *2
HDMI-Compatible 2.0 *1
RJ45 *1
DC-in 12V 1A
Micro SD Card Slot *1
Power off button *2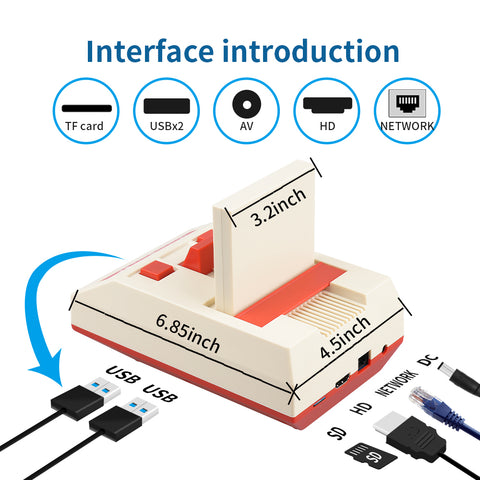 Package Contents
Hyper Base FC Game Console*1
500G HDD*1
8G TF Card*1(Pre-installed EmuELEC System)
Wireless Controller*2
TV Remote *1
HD Cable*1
Power Adapter*1(US/UK/EU/AU)
User Manual*1
Game Box*1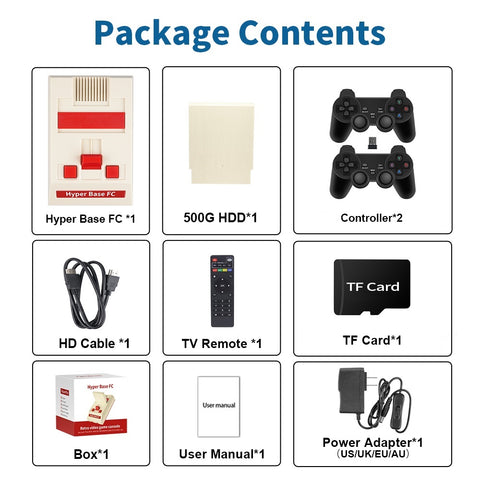 Share