JMachen External Game HDD Hyper Base BC 500G/2T
Regular price
Sale price
$39.99 USD
Unit price
per
Sale
Sold out
About Batocera.linux
Batocera.linux is 100% open sources!All our works are freely available

Batocera.linux is an open-source and completely free retro-gaming distribution that can be copied to a USB stick or an SD card with the aim of turning any computer/nano computer into a gaming console during a game or permanently.
Batocera.linux does not require any modification on your computer.
1:Features
Themes, Shaders,Bezels,Rewinding....and much more to discover!:
2:Powerful
Batocera .linux is built from the best emulators and the best cores!
3:Plug And Play
No need to configure system for hours!Batocera.linux is ready for use!Download, flash,connect and play!
4:Open Sources
Plug &Play, No driver needed
How to enter the Batocera System ?
1. Connect the portable hard drive to a USB port on your PC or Mac, a USB 3.0 port is recommended.
2. After pressing the power button, press and hold the ESC or Delete key on the keyboard to enter the BIOS. For Mac users, just hold down Option and select the portable hard drive to boot.
(By choosing the Hard Drive in the boot override option, your PC will boot into Batocera for once, after restarting it will get back to your own operating system. If you'd like Batocera as default booting option, go the Boot page and set the portable hard drive as Boot Option #1)
How to Check Hard Disk Capacity?
●Enter the game system
● Press the "start" key to enter the main menu to find the system settings
● Select the "Information" option and click to enter
● Then you can see system disk usage
Tips: Since the game system of the hard disk is a Linux system file, the game partition can not be seen under the Windows system, you can enter the game system to check.
Pre-installed 60+/70+Emulators for PS3/PS2/Wii/Wiiu etc
We have pre-installed the system and games for you, no download required, just plug and play.
Compatible with 80+ emulators such as PS3/PS2/PS1/PSP/Wii/Wiiu/Sega Saturn/XBOX/MAME etc, this is a huge collection of emulators, you only need to pay around $100 to find them all
When it comes to Games, We are More
This is amazing!Pre-loaded 47000+ games, no duplicate version!
Including childhood classic retro games, arcade games, fighting games, casual games, puzzle games, etc., games you can imagine can be found here, let's take an adventure in the game together, and show those classic pictures again.
In addition, we have established our own game database, which can provide you with the account password of game download resources for free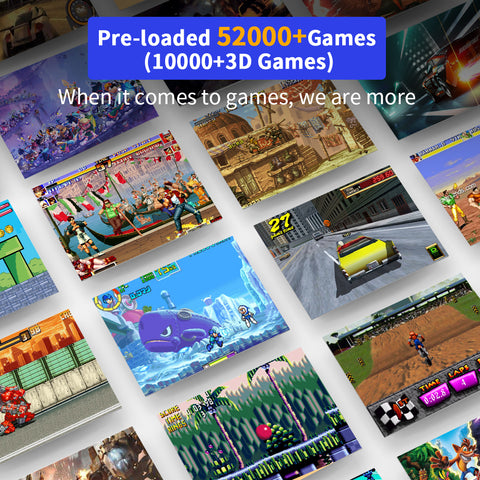 High Compatibility
2T large-capacity external hard drive, multiple compatibilities. Compatibility with Windows XP, Windows Vista, Win7-10/ Mac OS 10.2 and above/Linux operating system, suitable for PC/Laptop/X 86 PCs.etc. Make your computer easy turn into a game console

Batocera.linux PC
Large-capacity hard drive, multi-party compatibility. Hyper Base BC2 is compatible with Windows/Mac Os/Linux OS for Satndard Desktop/Laptop/Intel based Apple Computer/All Intel NUC etc. Just a USB3.0 cable (we already provided you), turn your computer into a retro game console, plug and play, no hassle!
SATA 3.0 Main Control Chip, Fast Transmission: 6GB/S
Adopt SATA 3.0 main control chip, support UASP protocol.Greatly reduce CPU occupancy rate, data delay and waiting time.
USB2.0 up to 480Mbps
USB3.0 up to 6Gbps
USB 3.0 interface, the transmission speed is faster and more stable
Support 30 Game System Languages
The batocera system supports 30 system languages, which can almost support buyers from all over the world, switch the language you need with one click, without any language barriers
What's in the Box?
Hyper Base BC2*1
USB 3.0 cable*1
Type-C adapter*1
User manual *1
Controller*1/2
Bag*1(When you buy two controllers)
Mini Size, Easy to Carry
Size:5.3inch X 3.3inch
Game Controller
If you don't have your own gamepad, you can buy our bundles, no configuration required, just plug and play
We offer you three handle types:
Wired Vibration Controller with 1.8m Cable Length
2.4G wireless controller
Betop D2E Wired Vibration Controller
Best Gift
This is the best gift for family, friends, children, relive childhood and enjoy the happy game together
Notice:
This hard drive only works with X86 hardware (32-bit or 64-bit), any ARM-based devices (Windows Surface series, Macs with Power pc CPU or M1 CPU) will not work. Since the manufacturer may adopt a unique BIOS or UEFI system, the BIOS interface and options of your device may be different, if you encounter any problems and difficulties, you are more than welcome to communicate with our friendly sales staff, also, Google Always be your good helper.
Share