Gaming PC Hyper Base N1
Regular price
$409.99 USD
Regular price
Sale price
$409.99 USD
Unit price
per
Sale
Sold out
Hyper Base N1 Parameter Details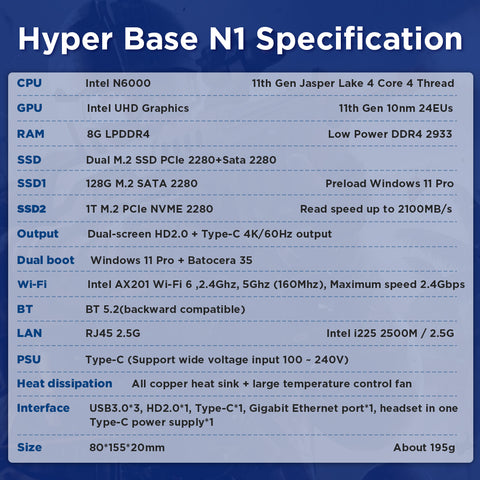 A Computer that Fits in Your Pocket!
Light&Portable / Small but Powerful
Size:80*155*20mm
Weight:About 195g
It's a pocket-sized mini computer that's the size of your phone, plus it's very light at around 195g, making it compact and portable, allowing you to travel neatly.
Intel 11th gen 4-core 2.9GHz Processor
This mini PC Hyper Base N1 uses the new intel 11th generation Jasper Lake N6000 quad-core, which improves the overall performance by 30% compared to the previous generation J4125. Equipped with intel Celeron N6000 quad-core and four-thread processor, turbo frequency up to 2.9GHz, 10nm process, low power consumption and quiet design, with stable computing, image and audio processing capabilities, easy to deal with office and home entertainment, etc.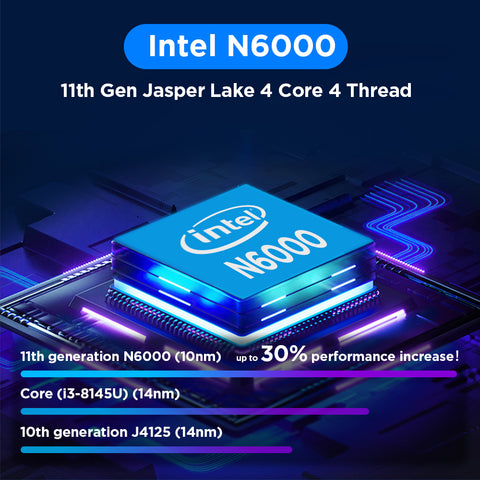 Dual 1T M.2 SSD PCle 2280 + 128G M.2 Sata 2280
Configuring Dual Solid State Drives
Quick boot, small but extraordinary
SSD 1: 128G M.2 SATA 2280
SSD 2: 1T M.2 PCle NVME 2280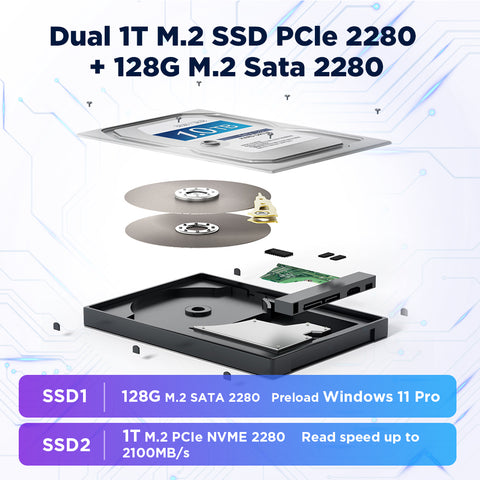 HD 2.0 + Type-C Dual-screen 4K output
This console support single-screen or dual-screen 4K output, expand more possibilities, double the work efficiency, you can play while working, restore details with color, and bring real and shocking picture effects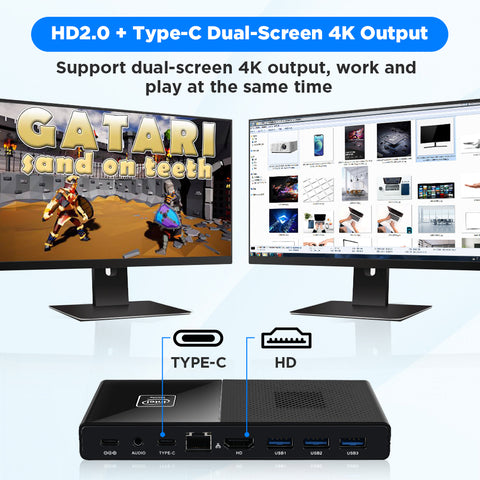 Windows 11 Pro + Batocera 35 Dual System in One
Hyper Base N1 is not only a game console with 50,000+ classic games, but also a portable mini computer with Win11 PRO system.
One console allows you to have two completely different experiences, both for efficient work and for gaming entertainment.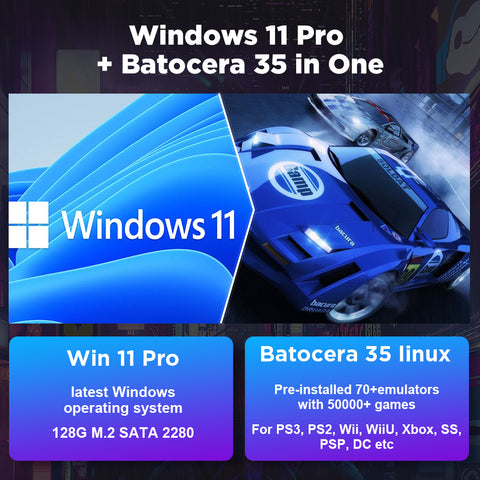 Pre-loaded 70+Emulators with  50000+Games
We have pre-installed 70+ emulators and 49000+ games, no need to download and install, just plug and play. Excellent performance, can perfectly run PS3 /PS2 /PS1 /Sega Saturn /DC /N64 /MAME /Wii /Wiiu etc, childhood classic games, arcade games, fighting games, casual puzzle games, owning it is equivalent to owning more classic retro game console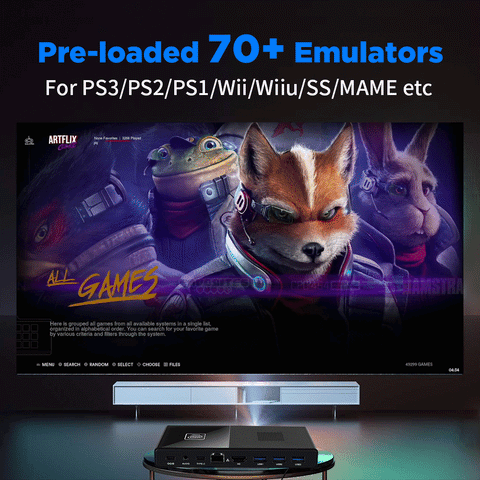 1T HDD SSD 
Pre-loaded 105+ emulators and game collections, 50000+ games pre-installed, without any duplication, plug and play.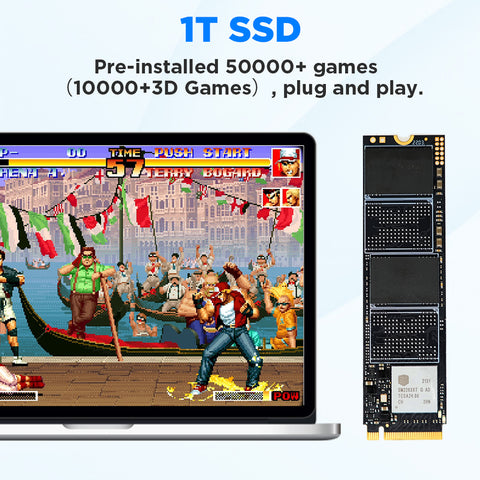 Wireless Dreedom Dual-band WIFI6+BT 5.2
Built-in intel AX201 network card, support 2.4G/5G dual-brand&BT 5.2 funcation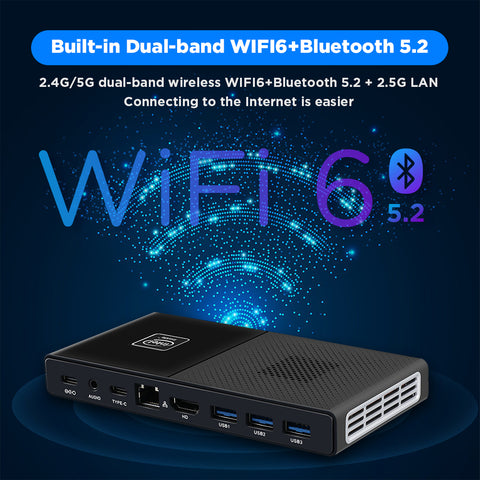 HD 2.0 4K HD Cinema
This Gaming PC Hyper Base N1 support 4K 60fps HD output, Intel UHD ultra-clear nuclear display, HD 2.0+Type-C dual output, 4K resolution HD cinema, 4096×2160 resolution, fours times that of  1080P, enjoy a clearer visual feast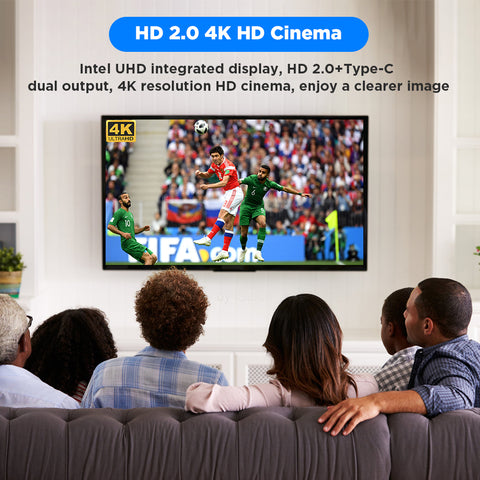 Multi-performance Console
Multi-functional scene application, whether you are doing business office, conference speech or teaching video, or watching a private theater at home, surfing the Internet, entertainment games, or going out on business, it can make you handy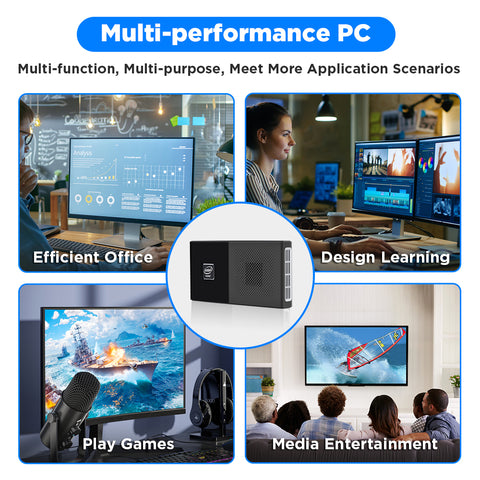 Easily Run Various Office Software
Easy to work without pressure, can quickly run office, WPS, PS, CAD, etc.
the speed of completing tasks can reach up to 12 times of the original less processing time means you can do more work and improve more ideas and finish your work faster than ever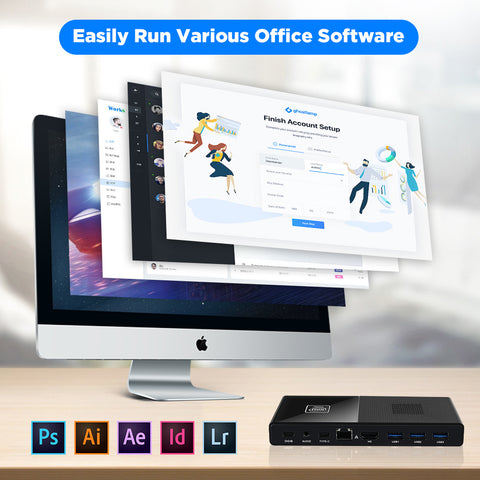 Anytime, Anywhere, Plug and play
Hyper Base N1 console supports connecting display, TVs, NAS, projectors, printers, monitoring, enjoy a new computer era, and open a portable computer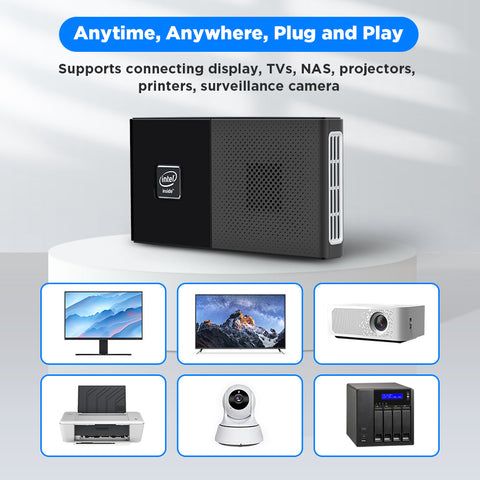 Strict Testing, Stable Operation
This console has the ability to run continuously throughout the day and can run stably in various environments, meeting the operating needs of various commercial and industrial equipment. We have carried out 24 hours of stable running ability on the machine, we have carried out drop test, noise test, general performance test, hardware compatibility test, you can buy with confidence.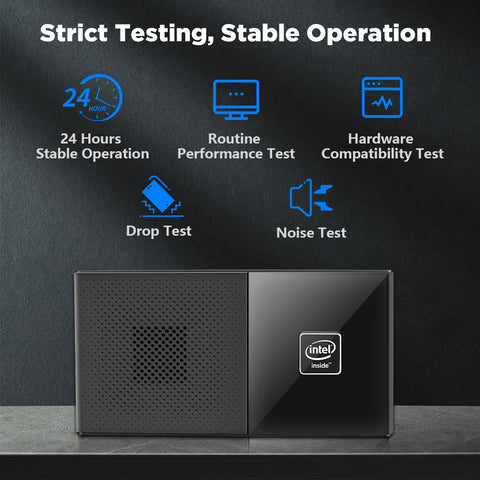 Efficient Cooling System
All-copper heat sink + temperature-controlled fan
high-performance operation, worry-free 7 X 24 hours of operation
Rich Interface, Quick Connection
Meet the needs of daily use
Rich interface, great potential
Usb3.2*3, HD2.0*1,2.5G RJ45 LAN*1,Audio jack*1, Type-C*1, Power/Type-C*1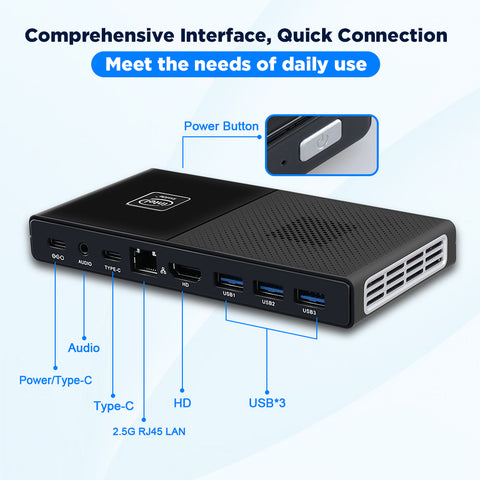 VESA-Mountable
With back hanging design make the desktop more concise
1:Minitor vesa bracket
2: Fix vesa bracket on the back of the monitor
3: Fix the screw at the position of the mini pc's hanging hole and hang it on the monitor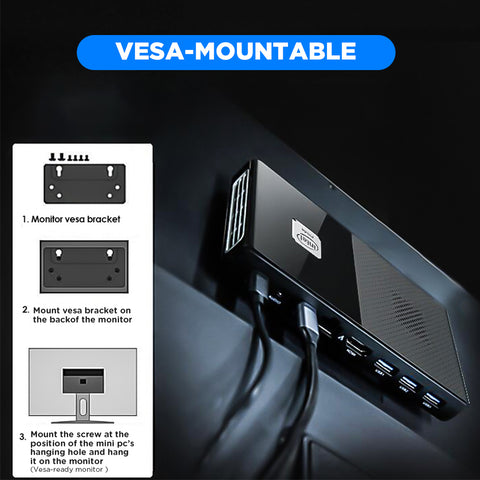 What's in the Package?
Hyper Base N1 Console*1
Controller*0/1/2
HD cable*1
Power supply*1(US/UK/EU/AU)
User manual*1
VESA-Mount bracket*1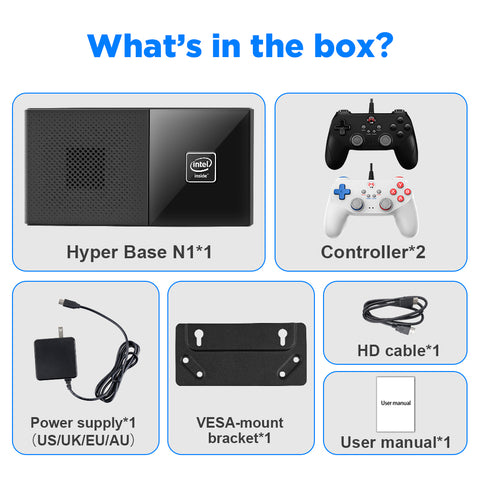 Share