256/512G Game Card for Steam Deck / GDP WIN4 / WIN600 / Windows PC / MAC /Handheld Game Console
Regular price
$69.99 USD
Sale price
$49.90 USD
Unit price
per
Sale
Sold out
Purchase Notes!
➜This game card has been pre-installed with the latest batocera system and 43000+/51400+ games, no download required, just plug and play!

➜ This game card is only suitable for Steam Deck/Windows PC/Windows system handheld (such as win600/GDP WIN4)/MAC (based on intel chip model) and other products!
Note: Please confirm carefully before placing an order. If you are not sure whether your device is compatible with this game card, please feel free to contact our online sales representatives.

➜ There are only game cards in the bag, only game cards, no machine, no machine!

➜ It is worth mentioning that we have established a global download server, so no matter what model you buy, we can provide you with 110,000+ (13000+AAA Games)game download resources, if necessary, please contact us.
256GB/512GB Game Card for Steam Deck/ GDP WIN4 / WIN 600



◆100%Plug & Play , No Driver Needed
◆Turn your Steam deck into a Retro Gaming Console, The best Emulation Station for your steam deck!
◆More Powerful Batocera 37 Game System, Here you will also find the game's read/save functions, forward, rewind...
◆256GB Capacity, Pre-installed 73 Emulators & 43500+Retro Games;512GB Capacity, Pre-installed 60+ Emulators & 51400+Retro Games,
◆Compatible with Multiple Device Types(Prefect for steam deck/win 600 handheld/GDP WIN4/Windows PC/MAC)
◆A1 grade performance! Run faster with read speeds up to 120MB/s!
Supports 30 Languages & Multiplayer !
Plug &Play, No Driver Needed
We have downloaded and installed the emulator and games for you, no driver, no download and installation, plug and play, you only need to cooperate with the compatible device, open and play.
Turn your Steamdeck into a Retro Gaming Console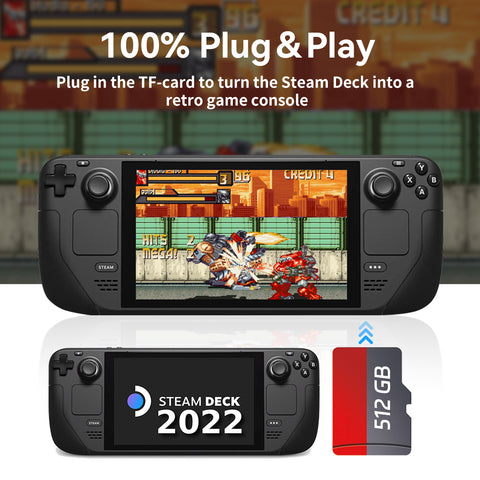 Pre-installed 70+Emulators
This game card is based on latest batocera 37 system, pre-installed 70+ emulators, support for PS3/PS2/PSP/PS1/N64/DC/MAME/Sega Saturn/Atari/Arcade/NDS/3DO/MAOMI etc
You can find every emulator you can imagine here.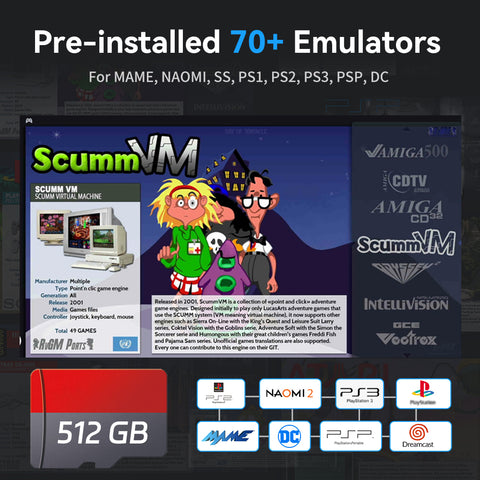 Pre-installed 43000/51400+Games
43000/51400+ retro games installed for you. A variety of action games, adventure games, role-playing games, classic retro games, and puzzle games are waiting for you to challenge and relive the childhood game time.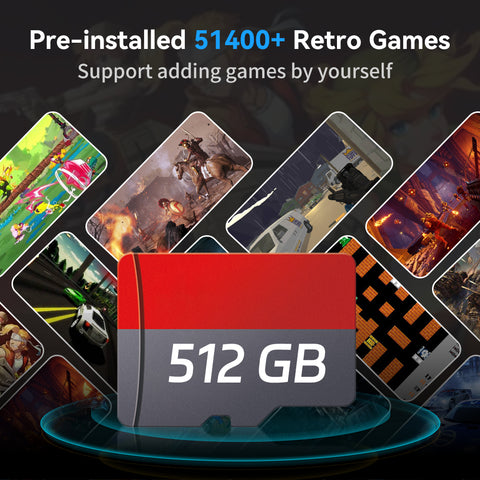 Compatible with Multiple Device Types
Game cards include a variety of device types, perfect for steam decks. It is suitable for MAC computers based on Intel chips, computers with windows system and handhelds with windows system, such as win600.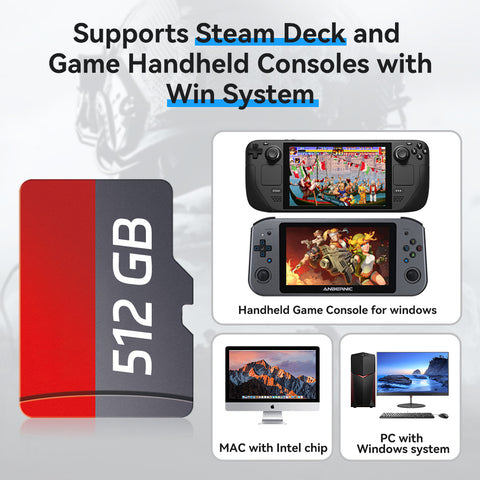 How to enter the Batocera System ?
For STEAM DECK users
1. Insert the game card into your device
2. Press the volume and power buttons at the same time to enter bios
3. Directly select the memory card to start

For WIN PC/MAC users
1. Insert the game card into your device
2. After pressing the power button, press and hold the ESC or Delete key on the keyboard to enter the BIOS. For Mac users, simply hold Option and select the removable drive to boot.
(By selecting Hard Drive in the boot override option, your PC will start Batocera once, and it will return to your own operating system after restarting. If you want Batocera as the default boot option, please enter the startup page and set the mobile hard disk as Boot option #1)

Since the manufacturer may adopt a unique BIOS or UEFI system, the BIOS interface and options of your device may be different. If you encounter any problems and difficulties, you are very welcome to communicate with our friendly sales staff. At the same time, Google Always be Your good helper.
Latest Batocera System
Features
Themes, Shaders, Bezels, Rewinding, RetroAchievements... and much more to discover!
Powerful
Batocera.linux is built from the best emulators and the best cores, giving you access to 140+ systems!
Plug And Play
No need to spend hours in configuration! Batocera.linux is ready for use, and supports most controllers out of the box. Download, flash, connect and play!
Free And Open Source
Batocera.linux is 100% open source! All our works are freely available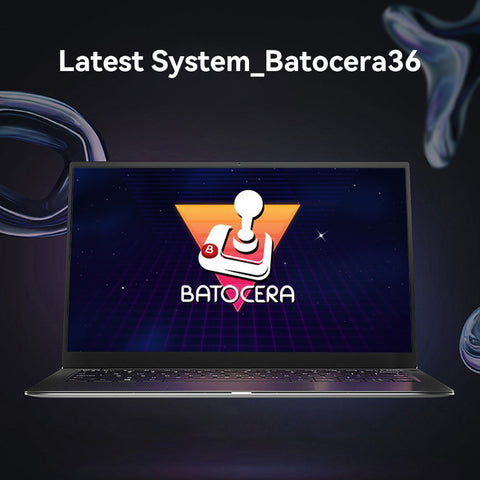 Multi-players Support
Support multiplayer online game play
Compatible with USB3.0 Card Reader,Up to 120MB/s
Run faster with read speeds up to 120MB/s!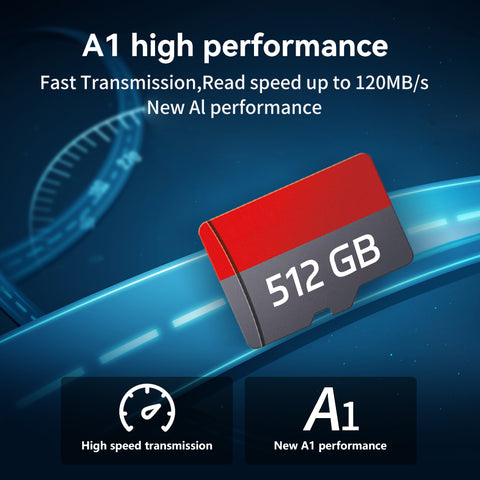 The System Supports 30 Languages
The batocera system supports 30 system languages, which can almost support buyers from all over the world, switch the language you need with one click, without any language barriers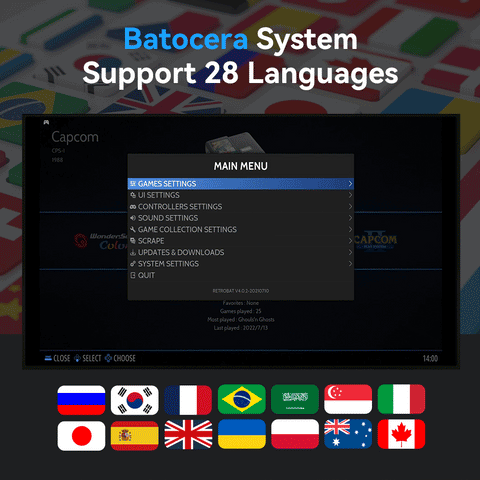 Share