2T SSD for ROG Ally/OnexPlayer/Steam Deck Handheld Game Console/PC RetroBat&Playnite for PS3/PS2/DC/WII/WIIU
Regular price
$164.99 USD
Regular price
$199.99 USD
Sale price
$164.99 USD
Unit price
per
Sale
Sold out
2TB SSD for ROG Ally/ OnexPlayer Series/ Steam Deck/ Desktop/ laptop
✍ 100% Plug & Play! No Driver Needed, No need to download and install
✍SSD stores and reads data, 500% faster than traditional HDD
✍Retro Bat & Playnite Dual System
✍2TB Capacity, Pre-installed 50+ Emulators & 38630+ Games
✔ Playnite: 82 AAA Games
✔Retrobat: 38500+ Games; for PS1/PS2/PS3/NGC/SWITCH/WII /WIIU etc
✍ Compatible with Multiple Device Types (for ROG Ally / OnexPlayer Series/ Steam Deck/ Windows MAC/ PC/ Laptop)
✍ Supports 26 Languages & Multiplayer !
✍ 110000+ Free Game Download Resources! Rich AAA, 3D and PC game!
100% Plug & Play,No Drive Needed
The solid-state game hard drive Play Zone is a 100% plug-and-play device, no driver required, no need to download and install;
Equipped with USB-C to USB-A and USB-C to USB-C dual cables for you, compatible with various devices, just connect your device to this ssd to play tens of thousands of games!
The built-in playnite and retrobat dual systems meet the needs of computer gamers and retro game lovers at the same time.
You can run games and manage game libraries directly in Windows without switching systems!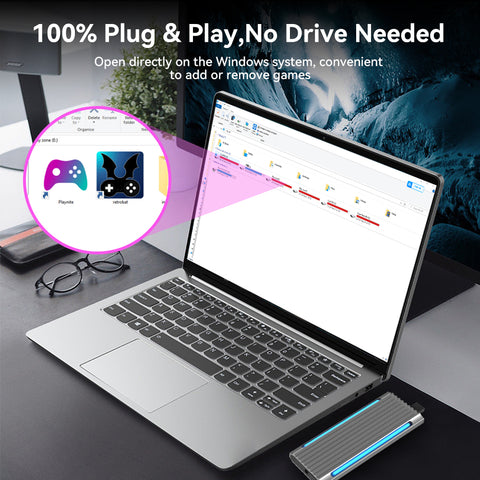 Strong Compatibility, Suitable for Multiple Systems
✔ROG Ally
✔OnexPlayer Series
✔Steam Deck
✔Desktop
✔Laptop
✔MAC(installe Windows )
This Play Zone Game SSD is mainly used for handhelds such as ROG Ally, OnexPlayer series products, etc. (OnexPlayer, OnexPlayer 2Pro, OnexPlayer mini, OnexPlayer AMD OnexPlayer 1S are all acceptable), Steam Deck with Windows system installed, desktop computers, laptops (need meet the configuration requirements) are also compatible; of course, if your MAC is installed with windows, it is also compatible, but note that native MacOS is not.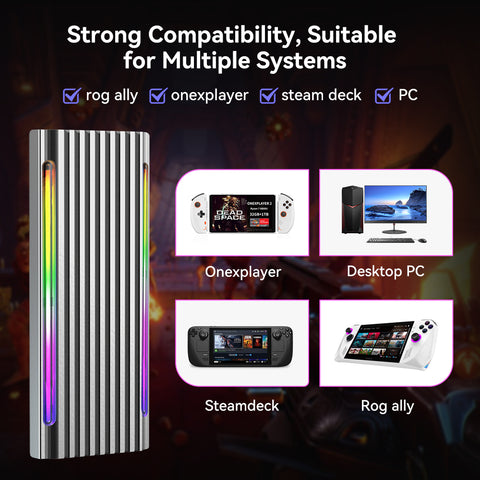 RetroBat&Playnite Dual System
The Ultimate Gaming SSD, Play Zone SSD This solid-state drive gaming machine integrates two front ends: Playnite and RetroBat

➀Playnite is an open source video game library manager with a simple goal: to provide a unified interface for all games.
➁RetroBat is designed to automatically configure emulation station frontends with RetroArch and standalone emulators.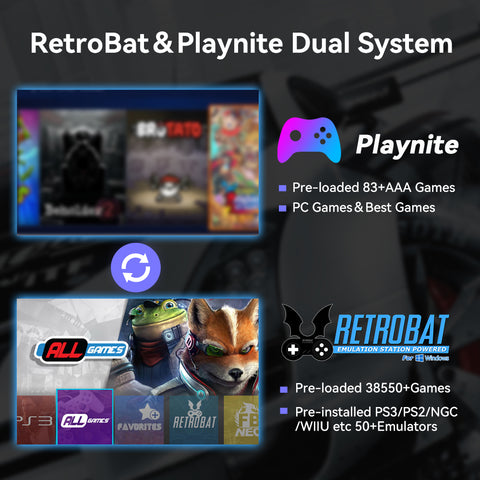 Pre-installed 50+ Popular Emulators
The ssd is based on the latest playnite and retrobat systems, pre-installed with 50+ emulators, covering PS1, PS2, PS3, NGC, SWITCH, WII, WIIU, SATURN, GAME CUBE, NES, MAME large emulators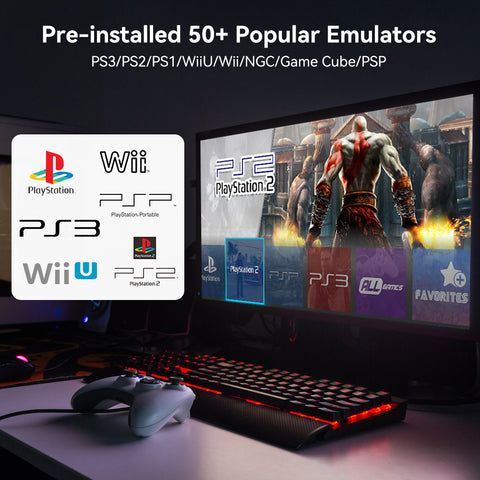 Pre-loaded 38600+Games
https://bit.ly/PLAYZONEgamelist

38600+ retro games installed for you.
Playnite system: 82 games (fashionable games, independent games, AAA games)
Retrobat system: 38550 (compatible with PS1 PS2 PS3 NGC SWITCH WII WIIU large-scale emulators and other 3D emulators, retro emulator games)
A variety of action games, adventure games, role-playing games, classic retro games, and puzzle games are waiting for you to challenge and relive childhood game time.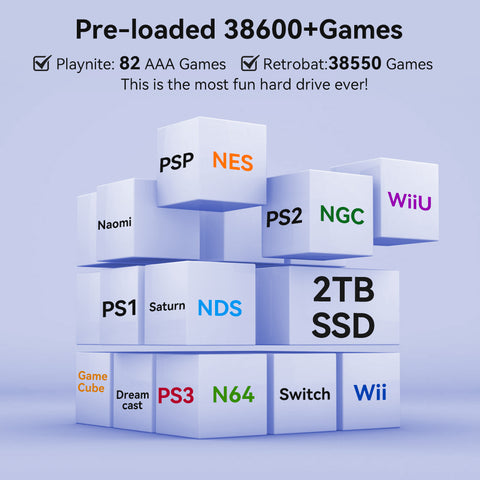 SSD is 500% Faster Than Traditional HDD
SSD stores and reads data, 500% faster than traditional HDD,Higher Speed, Lower Latency
Available for Win8.1 and above
Operating system: only supports 64-bit Win8.1 and above
Multilingual System
Support 30+ languages, can be used by global players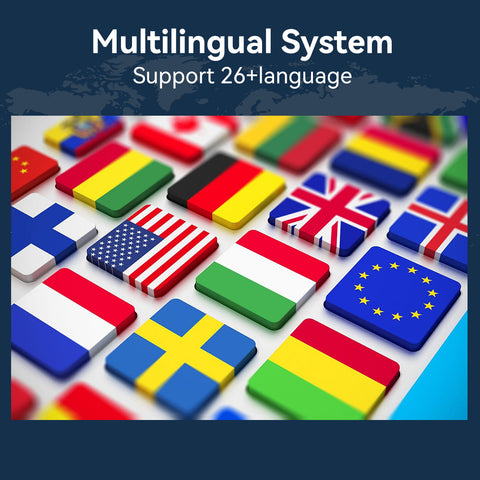 Support DIY
√ Support adding games by yourself
√ Support recording the number of game plays
√ Support adding to favorites.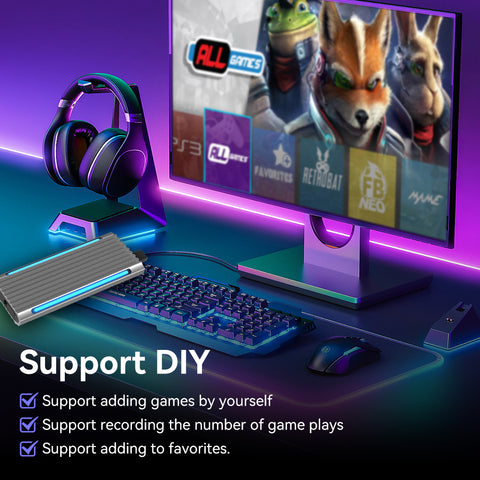 Strong Cooling
The metal case with fins dissipates heat quickly, bid farewell to overheating and slowdown, and ensures smooth running of the game without frame drops or freezes, allowing the performance to continue to be strong.
Surprise! Update the Game for Free
➤100000+ classic retro game download resources
➤ Massive 3D game download resources
➤ 400+ AAA game download resources
We provide you with a free game download resource account password, you can directly log in to our server to download and install!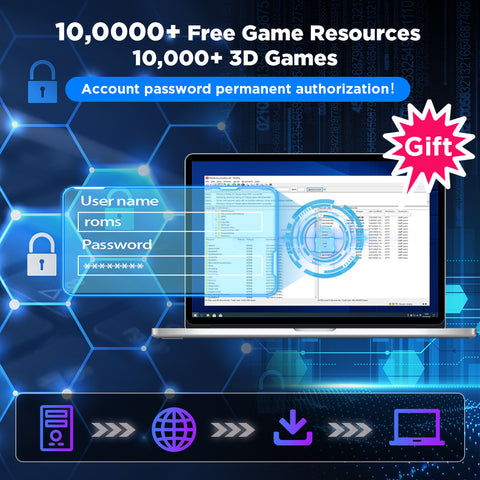 What's in the Box?
2TB SSD*1
USB-C to USB-A*1
USB-C to USB-C*1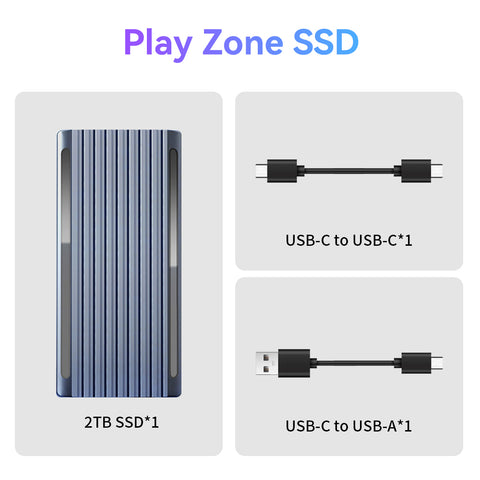 Share